Description
Key Features :
Container Capacity – 5 Kg
Auto Start
Auto Clean
Auto Off
Auto Overload Cutoff
1 HP Power Saver Motor with Silicon Stamping and SKF Bearing
Shockproof Wiring with Two Pole Main Switch
Child Safety Switch
100 Percent Aluminium Free Grinding Chamber with Lifetime Guarantee
Stainless Steel Jali Set (7 Pieces)
Stainless Steel Bottom
Warranty: 1 Year manufacturer warranty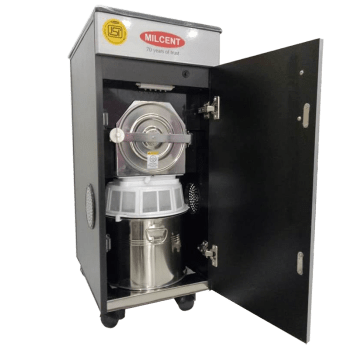 Other Features : 
Single solution to Grind all Grain & Spices
Auto Start
Grinding starts automatically by sensing the presence of grain
Auto Child safety stop
Machine stops grinding on opening the front door during grinding & till door is not closed grinding doesn't start
Auto Glow
Glowing LED lighting for your convenience when you open the door
Auto overload cut off
Grinding stops automatically if the machine gets overloaded (for protection of electric motor)
Auto Clean
Auto clean system makes grinding chamber clean at the end of grinding process. Buzzer system will make indication of Auto Cleaning process
Auto Stop
At the end of grinding process after Auto cleaning, the flourmill stops automatically
Advanced Auto Feed System
Advanced motor controls grain feeding automatically, without any noise or any manual setting for your ease
Specially designed power saver motor
Best quality electric motor with copper winding, silicon stamping, SKF bearings etc.. Saves almost up to 30% electricity
Power full & Advanced micro controller
Advanced reliable micro controller for precise functions of auto features
Single Piece SS Grinding Rotor without any joint
Single piece rustproof SS grinding rotor to avoid any accident at high RPM
Long life SS Grinding Sieves
Seven different type of strong rustproof SS sieves for different types of flour
Aesthetically well designed
Well designed aesthetically give an attractive look to the product
Advanced Audio Guided System:
Now, enjoy the advanced audio Guided system in Milcent Domestic Flourmill. Advanced Audio guidance will assist you in each process which adds ease to complete operation. Advanced Audio Assistance will give an audio instruction for each operation of the product, makes an complete operation easy.
Additional Warranties
10 Years Guarantee on Motor*
Related products