Customized energy control with a 5 Step mode
5 step Convertible Cooling
Save energy, but still stay cool. 5 Step mode* uses customized compressor operation from 40% to 120% which control energy consumption.It lets you cool more efficiently when it's not too hot outside or just save energy and money at any time,so you don't have to worry about the electricity bills.
* 1. Tested on Cooling Standard (Out 35℃ DB / 24℃ WB, In 27℃ DB / 19℃ WB).2. The performance of the test result could be differ by model.3. Tested on the AR24AY4YATAN compared with Samsung conventional models, measuring the power consumption of normal mode vs. 5 Step mode.(It works not doing WindFree mode.)
Lasting protection, optimal performance
Durafin™ Ultra
Safeguard the Heat Exchanger from damaging corrosion. The Durafin™ Ultra has an anti-corrosive layer and a hydrophilic layer that protect the Heat Exchanger from rust. Its superb corrosion-resistance was proven in a Salt Spray Test (SST)*.
* Based on testing by a third party lab in accordance with ASTM B117, an official test method. For more details, please contact Samsung's technical professionals.** Based on testing by a third party lab, applying the actual pressure of refrigerant for 1 minute, after a Salt Spray Test (SST) of over 3,000 hours.
Designed to cool faster,wider & farther
Fast Cooling
Cool rooms quickly from corner to corner, so you're always comfortable. Digital Inverter Boost technology cools the air 43% faster*. Its advanced design also has a 15% larger fan, 18% wider inlet and a 31% wider blade. So cool air is dispersed farther and wider**, reaching up to 15 meters.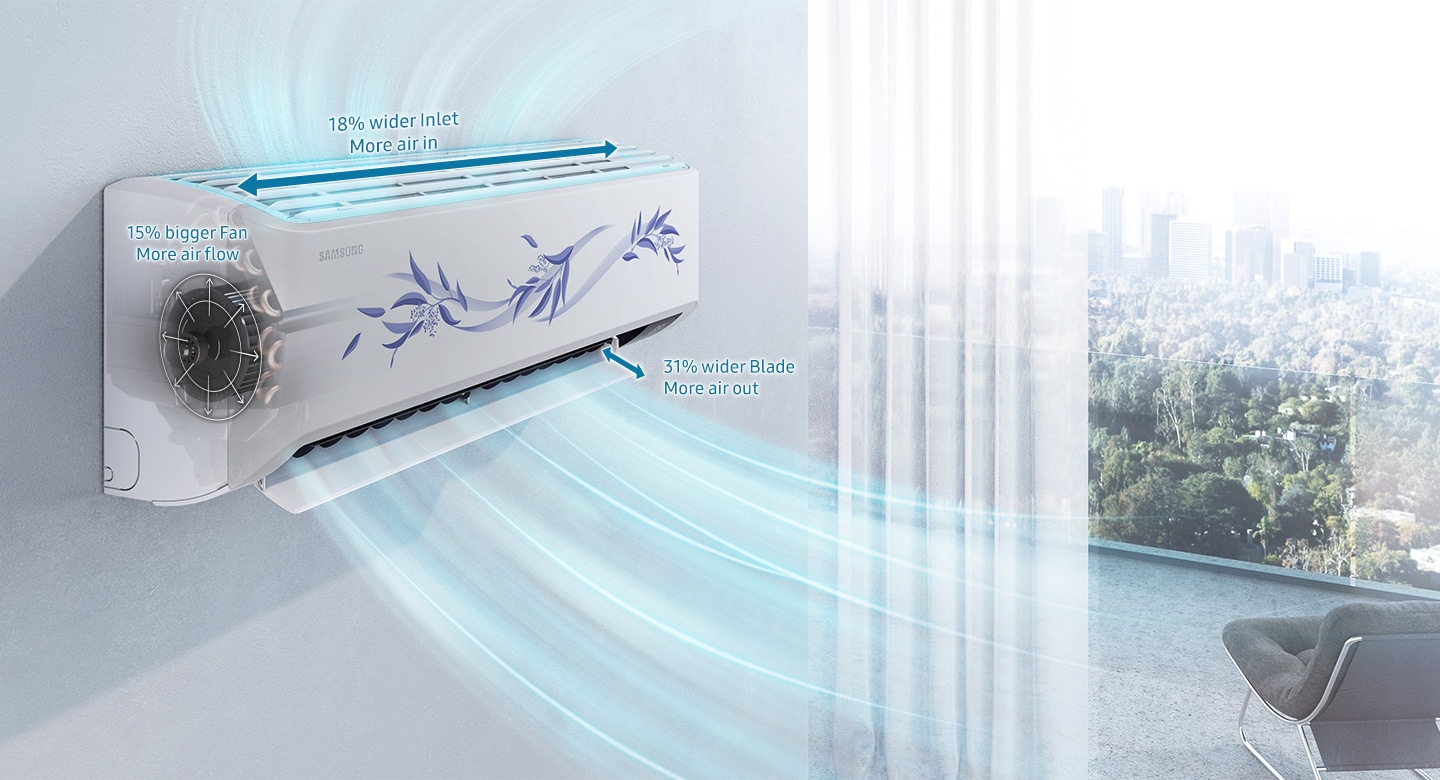 * Tested on the AR12TXCAAWKEU model compared with the Samsung conventional model AQ12EASER.** Tested on the AR24TXFCAWKNEU model.
Stable and durable in harsh conditions
Triple Protector Plus
Enjoy a long-lasting performance in challenging environments. Triple Protector Plus technology prevents damage from power surges and fluctuating electrical currents*. Its anti-corrosion coating also protects the condenser and cabinet in harsh conditions.
* Tested on the AR12TXEAAWKNEU model compared with the Samsung conventional model AS18FCMID.